We have plans for our new home. What is the next step?
The best way forward is to meet face to face to discuss your plans, ideas, timeframe and budget.   We can then be sure that LCB fully understands what you are looking for in your new home and how we can best meet those requirements.  If an initial meeting is not possible we are happy to start our discussions through email and over the phone.
We have not finalized our plans. Can we still receive an estimate?
 We will be happy to provide you with a budget estimate based on the information available and preliminary plans.  To provide a firm quote, final plans are required.  Key items like foundation design, flooring, appliance choices and other unique features have a direct impact on the final price. 
Can LCB build on our lot?
Lewis Custom Builders can build anywhere in the Greater Houston Area. 
Where does LCB build?
We are active in all of Greater Houston, focusing  in the North of Houston We are building homes in Benders Landing, Teaswood, High Meadow Ranch and Lake Conroe, as well as the Heights
What warranty comes with a LCB Home?
Every LCB home comes with a 10 year third party warranty.
What professional services are included in a LCB home?
Our standard package includes engineered foundations and frames as well as 8  hours of one on one time with our professional interior designer.
Does LCB build on a cost plus basis?
We can build on a cost plus basis if this is preferred by the homeowner.  However, it is our belief that the homeowner is best served with a traditional turn key bid as it lowers risk for the client and in most cases results in lower prices for the homeowner as the builder is motivated to find the best service at the best price.
How long will it take to complete construction of our new home?
As a rule of thumb, it takes approximately 6 months to complete a custom home, but there are three major factors that affect the duration of construction:
The permitting and approvals process is unique to every area. Often times this process adds 4-6 weeks after plans are finalized before work can begin
The weather can have a major impact on the schedule. In Houston, we experience heavy rains at certain times of the year and this can have a dramatic effect on our ability to start the foundations.
The building process is dependent on certain steps being completed before the next step can begin. Flooring, paint, appliances, granite, tile, etc. are examples of choices that must be made in a timely fashion for the house to be completed on time.
Can LCB help us in the design process for our new home?
Lewis Custom Builders maintains close relationships with several Home designers.  We would be happy to work with you to find the designer best suited to your taste and budget. yes
WHAT DO OUR CLIENTS SAY ABOUT US?
If you are considering building a custom home, we would like to highly recommend Lewis Custom Builders. When we first made the decision to build, many people told us horror stories about building a custom home.
Willard & Angie White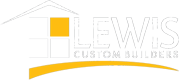 Lewis Custom Builders
281-650-7871
Fax: 281.465.9215
25132 Oakhurst Drive Suite 205
Spring, TX 77386
©2023 Lewis Custom Homes, All Rights Reserved